In recent years, there has been a heightened sense of the need for well-being among the general population. Along with this trend, a proliferation of different ways to pamper one's self, including through massage. Now for gay men, there are different ways to get pampered through massage.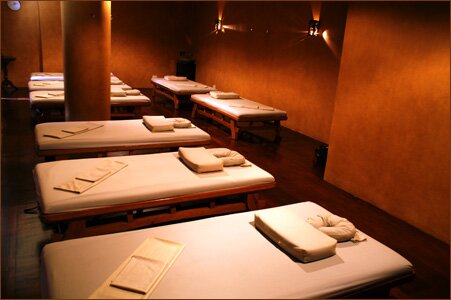 Spas
(The Spa, Discovery Spa, Nurture Spa, San Benito Farm, Sonya's Sensuous Spa, City Lifestyle, Sanctuario Spa, etc.)
This is the most expensive and extravagant way to get a massage. Charges start at 720 pesos for an hour-long massage, some establishments even charge more than 1,500 for the same treatment. They mostly employ female masseuses, although some offer the option of male masseurs. Those establishments that employ masseurs are aware and wary about some of their masseurs doing sideline hanky panky stuff with their clients — because even in some of these supposedly ritzy places, some of these actually do happen. Ask Mcvie. Hehe!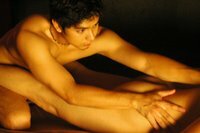 Massage Parlors
Even before the advent of spas, massage parlors already are in existence. Most of these places cater to horny, dirty old men, but a good number specialize in providing services to the gay community. Examples are Datu, Big Men, Blue Palm, Lakan, Mr. Earth, Utopia, etc. I have not been to any one of these establishments although from feedback I hear, most masseurs don't really give good massage. Apparently they specialize on "extra service" and the massage is just a front. If this is true then those looking for a massage should be looking elsewhere; those interested in "extra service" then you know what to do - hehehe! A note of caution: some of these places have been raided due to the reported illicit activities happening in their massage rooms. Go at your own risk!
Home Service
Browse through any newspaper's Classified Ads and you will definitely see advertisements related to "Home Service Massage." Some of these are legitimate, however, most are not. If you read, "Massage by Paquito, handsome well-built masseur, call 987-6543," I'm sure you know what Paquito is *really* offering, right? By the way, I thought of putting another little note of caution here: never bring in a stranger to the privacy of your house, especially with the gay killings that have happened recently, allegedly done by hired home service masseurs.
Blind Masseurs in Shopping Malls
If my memory serves me right, you can get a 15-minute backrub for just 50 pesos. For the weary shopper, this is a quick fix. I tried it once, and thought blind masseurs are a bit more intense than normal. I left his massage chair black and blue.
I recommend…
So where do I recommend you get your massage? Well, if you're really up for a good, relaxing massage, those reputable spas would be best. My two favorite places to get my massage are: The Spa in Bel-Air, Makati (Php780 for an hour of massage, common room, masseuses only) and Sonya's Sensuous Spa in Tagaytay (Php600 for an hour of massage, VIP room, option for masseur).








Possibly Related Entries:

10 Responses to "Massage for Gay Men"
Leave a Reply